A few months back I got a forward that gave a rather cheeky lesson on understanding Banking ----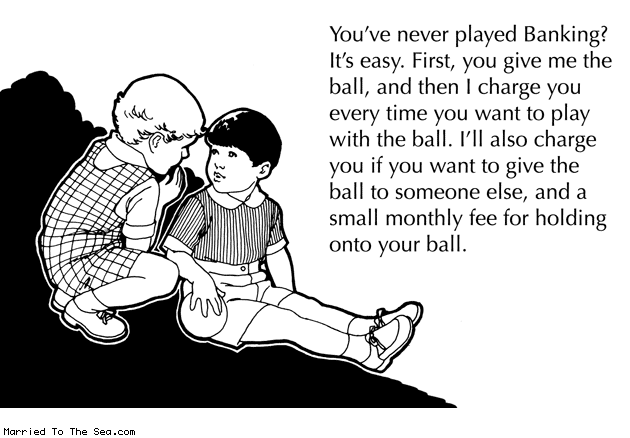 (Source:

uberhumour.com

)
Well, we have come a long way from what banking was; modern technological advancements have made the realm of banking easy as well as dangerous. While the many merits of online banking cannot be easily explained, there is equally a virtual assault over innocent victims and an increase in cyber crimes.
I still have a set of wary elders who balk at the idea of net banking and prefer to do it the conventional way. Well, the murky world online does intimidate us but that means we have to be extra alert and cautious !
Talking of uber savvy technological advancements,Bitcoins are another milestone in the domain of virtual banking that promises to take the world by storm. Still at an experimental stage the term was first coined by Satoshi Nakomoto whose real identity remains elusive. It is speculated that the brain(s) behind the virtual currency may be one or a group of people and this train of thought has been given a rich and a well imagined identity by Ravi Subramanian in his latest book "God is a Gamer'.
I have read Ravi's

The Bankster

and loved his style of writing. So this book was immensely anticipated and it did not let me down.
From the sandy beaches of Goa to the Congress in Washington, all traversing effortlessly between FBI head quarters and Mumbai's corporate board rooms, the book is a delightful blend of mystery, suspense, lust, love, and a heady mix of murder and heist.
Aditya, the ex-banker's Indiscape, the top Gaming company is in doldrums and when his estranged son returns , his personal and professional front sees an upswing. And then comes a murder and things go awry.
So who is the hunter and who is hunted? Read the book----
Verdict (Yay's & Nay's)
Yay to
Juggling many parallel plots all over the globe, the book is well written and has a lucid narrative style. The fact that 99 odd chapters are kept short and crisp adds to the easy understanding. I did not have to constantly go back and remind myself of the characters.
Twists & turns keeps you hooked.
Though loaded with technical jargon, it was easy to understand and relate to.
Liked the punchlines thrown in the book. Sample these

The world around you is changing—either adapt or perish.

Shit was happening— but you have got to clean up the mess and move on.

Reputation has no insurance.
Nay to
The plot became predictable at the end though I liked the rationale behind the perpetrator's decision to wreak havoc.
The many hues of gaming industry has been well explored and in that sense the book is strictly not a banking thriller.
Sensuous tales weaved in between does not add anything to the story. I thought it was just to titillate the masses and hence totally unwarranted.
While the story explains all about bitcoins, the wallet and its working, no mention of how to change them into real life currency.
No mention of money recovered from Josh's apartment being credited back to the customers. The liability of the service render could have been grossly reduced thereby.
There was no single hero. Was there a hero or a villain ?
All in all , a
thriller that promises to bare the cloudy waters of life online.
Author : Ravi Subramanian
ISBN : 9780143421399
Price : INR 299/-
Publisher : Penguin
Category : Fiction
Recommendation : Thumbs Up !
Thankyou Blogadda for the autographed book.
This review is a part of the Book Review by Bloggers at blogadda. Participate now to get free books!